Truscott Lecture in Justice
Steven Truscott was wrongfully convicted of murder in 1959, at the age of 14. It took until 2007 to prove his innocence.
The Truscott Lecture in Justice is part of the Truscott Initiative launched at the University of Guelph in 2009 to commemorate the struggles of wrongfully convicted Guelph resident Steven Truscott and his family. The lecture series helps shine a light on the Canadian criminal justice system and highlights how criminal justice intersects with public policy and broader conceptions of justice.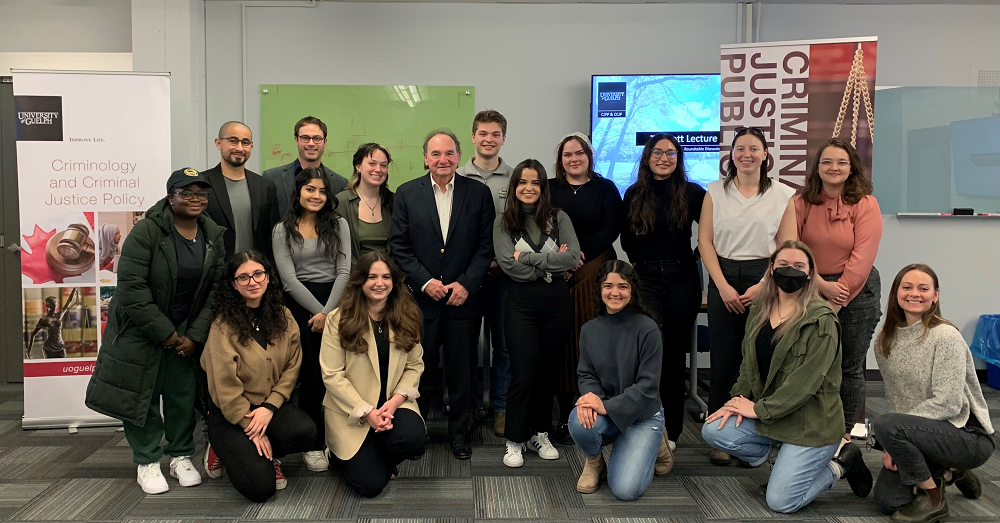 Reflections on Justice at the 2023 Truscott Lecture
Supreme Court of Canada Justice Michael Moldaver had a special connection to the Truscott case, having served on the Ontario Court of Appeal while the case was being heard. Ryan Truscott, son of Steven Truscott, reflects on what a passing greeting by Justice Moldaver in the hallway and the opportunity to connect 20 years later for this year's lecture meant to Ryan and his family.
"While physical freedom had been given to my dad in 1969, freedom from the stigma and shame that comes along with being titled a convicted murderer for him and our family was never granted. Justice Moldaver spoke about the flaws in my dad's case, about that 14-year-old boy that was sentenced to be hanged, who was now sitting before him as a 78-year-old grandfather."

– Ryan Truscott
Past Truscott Lectures
Supreme Court of Canada Justice Michael Moldaver reflects on the state of the Canadian criminal justice system. Justice Moldaver offer a critical assessment of how the system operates and how it might be improved from his perspective as a former criminal defence lawyer and retiring Supreme Court justice.
Investigative journalist Julian Sher and news reporter and videographer Nicole Lampa share their experiences reporting on criminal activities in Canada and abroad.
Senator Kim Pate speaks of the future of Canada's legal and penal system.
Ontario's attorney general Yasir Naqvi focuses on pretrial delay in criminal cases and challenging the status quo in this Truscott Lecture.
Support the Truscott Lecture in Justice
To help us continue to host world experts and engage with fundamental questions in the field of justice, we need your support.
To find out more about your support of the Truscott Lecture, contact:
Cristina Coates
Alumni Advancement Manager
ccoate02@uoguelph.ca
226-971-0796 (cell)