Why Give to the College?
Change a Student's Life
The cost of getting a quality education today continues to rise. Tuition for an undergraduate student at the University of Guelph costs anywhere between $6,500 and $13,000 per year. On average, a student will spend $38,600 on tuition during the course of their undergraduate degree and will graduate with more than $26,000 in student debt.
Your generous donations help improve the life of students by alleviating some of these costs, making it possible for them to focus on their education and take advantage of opportunities they might not otherwise have.
Increase the impact of your gift
Make your commitment today and take advantage of limited matching funds to maximize your gift. Contact Kourtney or Cristina to see how the impact of your award can be increased by supporting funds from the College of Social and Applied Human Sciences.
Make an Impact
Owen Krystia is a student at the University studying Family Relations and Applied Nutrition. Because of donor funding, he was able to join the Guelph Family Health Study for some first-hand research experience in his field.
Generous donor funding gives students opportunities to gain a fuller education through hands-on, real-life training and experiences.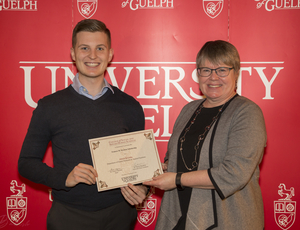 My experiential learning with the Guelph Family Health Study has enriched my education. Both the professors and graduate students created an open and fostering environment supportive to my development both as a student and scholar. Without my experience with the Guelph Family Health Study, my passion for research is something I may never have realized!
Owen Krystia
Family Relations and Applied Nutrition
---
Award Recognition
Annually, the College of Social and Applied Human Sciences (CSAHS) distributes over $500,000 in student awards and recognizes the academic achievement and outstanding leadership of over 200 students. Many of these awards are generously funded by donors who see the importance of supporting students in their academic and professional pursuits. We are so proud of the excellence of our students and the generosity of our donors.
---
Questions About Giving?
Interested in making a donation but not sure it will make a difference, where to direct your gift, or how to make a gift?
Contact our Alumni Affairs team:
Kourtney Parker
Senior Development Manager
k.parker@uoguelph.ca
519-824-4120, ext. 56543
Cristina Coates
Alumni Advancement Manager
ccoate02@uoguelph.ca
519-824-4120, ext. 52965
---