Reflections on Justice: How One Miscarriage of Justice Revealed the Human Side of Law
Wrongfully sentenced to death at age 14 in 1959, Steven Truscott may have later been granted physical freedom, but freedom from the stigma and shame that came with being titled a convicted murderer was never granted.
As the University of Guelph hosted Supreme Court of Canada Justice Michael Moldaver for the annual Truscott lecture commemorating the family's legal struggle, Steven's son Ryan Truscott reflects on how meaningful it was to reconnect with Justice Moldaver as someone who helped reach a resolution of the miscarriage of justice.
---
By Ryan Truscott
While growing up in a family that was part of the national fabric of Canada for over 60 years, I was constantly reminded that my father's case weighed heavily on all Canadians, not just the families involved. Canadians had diligently followed along in the news, books, T.V. documentaries, plays and now the film "Marlene." The devastation that was brought to two families that fateful day in June of 1959 was shared by an innocent nation. How could something like this happen in our Canada?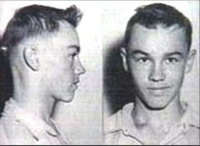 As years and decades passed, a thirst for justice came alive each time a reporter or aspiring investigator uncovered what they thought was "the key" to the Truscott case, each time making it difficult for the families and a nation to find peace. Thoughts of justice for both my father and the Harper family seemed a distant dream until the opportunity arose one day with new evidence to take on the monumental task of overturning this conviction.
For years the case went to every corner of the Canadian justice system and met every possible delay. What took just 14 days at trial to charge a then 14-year-old boy took almost 50 years to undo. A delay that inevitably denied the Harper family justice in finding the true culprit.
When one considers in retrospect that authorities believe that the true perpetrator could have been a repeat offender with multiple victims, the possibility of such damage to so many other families and the overall burden and trauma from this one miscarriage of justice is exponentially multiplied and difficult to fathom. One miscarriage of justice had a devastating impact on many innocent lives and is a true stain on the justice system and on the confidence of Canadians in our system.
Going to the Court of Appeal in Toronto during the final stage of my father's journey, I can remember being overwhelmed by the dozens of cameras and reporters that would mob us every day. It was like something from a movie and as far as I could get from the quiet, protected life I grew up with in Guelph.
On one day I remember that Justice Michael Moldaver (then serving on the Ontario Court of Appeal) stopped to quickly greet my dad during a chance passing in a hallway. It was a brief moment with a few short words, but it humanized a system that until now seemed like a David vs Goliath type process that found my quiet and humble father once again fighting for his freedom.
While physical freedom had been given to my dad in 1969, freedom from the stigma and shame that comes along with being titled a convicted murderer for him and our family was never granted. On August 28th, 2007 my dad was granted that freedom, a day most of us hoped for but never thought would be realized. While this was a relief for our family, there is still a deep sense of sorrow that with the passage of time and lack of resources this case will forever be unsolved and sadly the Harper family will never get closure nor will someone be held accountable; something I think about all the time.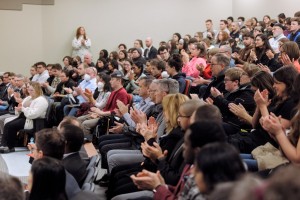 Since the late 2000's we've started the 'Truscott Lecture in Justice' in the Criminal Justice and Public Policy program which brings the brightest minds and players in the Canadian Justice System to the University of Guelph each year. This lecture aims to improve understanding of the nation's complex criminal justice system and to highlight how criminal justice intersects with other policy areas and broader conceptions of justice. My husband and I help fund the lecture each year to honour my parents, Steve and Marlene Truscott, and their decades-long fight for justice. We have had amazing lecturers over the years, including Justice Stephen T. Goudge Q.C., Senator Kim Pate, Attorney General of Ontario Yasir Naqvi, a lecture on the journalism of crime reporting and more.
This year was a very special one for my dad and our family. After almost 20 years since that chance meeting in a hallway, a criminal law giant, Supreme Court of Canada Justice Michael Moldaver joined us to give the 2023 Truscott Lecture. From the moment that Justice Moldaver and his lovely wife Riki walked into the room at the Brass Taps pub, it was like old friends catching up. Watching my dad and Justice Moldaver recount over 60 years of Canadian legal history was nothing short of awe inspiring. Each had played a pivotal role in a case that had captured a nation.
Following the dinner, we proceeded to the lecture hall and for almost an hour you could hear a pin drop as Justice Moldaver shared his insight on how our justice system functions, how it has changed and evolved and sadly how it has become an inefficient, slow machine full of bureaucracy and red tape. Our system that used to complete a minor case in a day and a complex murder trial in less than two weeks now often takes months and years to complete.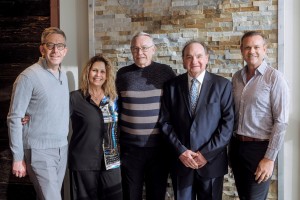 He challenged us as Canadians to decide how we want to issue justice in our country; do we not sweat the small stuff so that we have time and resources to take aim at the monumental issues and crimes that face us in the years ahead? Or do we continue with the status quo, the system that lies before us, and grin and bear it? I guess it depends on who you ask, or what part you play in this complex system. Justice Moldaver spoke from the heart on a subject that has shaped most of his adult life. To bring about systematic change the Government of Canada will necessitate tough decisions and big changes so that the justice system we leave for the youth of today will be sustainable and equitable for all in the future.
From a very personal perspective Justice Moldaver spoke about the flaws in my dad's case, about that 14-year-old boy that was sentenced to be hanged, who was now sitting before him as a 78-year-old grandfather. Although he spoke to a room packed full of eager and engaged students, staff, our Member of Parliament, the Guelph Chief of Police and community members, at times it felt like he was speaking to an audience of one.
Being part of the resolution of the miscarriage of justice in the latter part of his career was in his words "one of the highlights of my whole career" and getting to talk about it to the one person it mattered to the most to was everything! At one point Justice Moldaver pulled out an envelope. Inside, was a card that he had held close to him for almost twenty years. As he read the inscription, we learned it was a card that my parents had sent to each of the five appellate justices after the case was over to thank them for their work and bringing some closure to this terrible ordeal. The best part was that he had sent a reply to my parents, the only one of the five to do so, a card that my parents had held equally close for those nearly twenty years.
While talking about the Truscott case and the many other wrongful conviction cases stirs up a lot of emotion and debate on our criminal justice system here in Canada, one thing we can be sure of is that there is a human side to law, one that is not infallible to making mistakes. From a family that has lived through one of the country's largest and arguably most important legal cases, I can tell you that sometimes it's important to have faith that those humans, who spend a lifetime defending the laws of the land, will inevitably do the right thing in the name of justice.
Share this page
News Topics