Awards & Scholarships
Take advantage of over $500,000 dollars in awards exclusively available to students enrolled in the College of Social and Applied Human Sciences. Scholarships and bursaries can open doors to new opportunities, help you attain your academic and career goals and make a significant difference in your educational journey.
Be rewarded for the hard work you are doing both inside and outside the classroom. Apply for an award today.
---
Awards, which often help relieve financial burden, can have a far-reaching effect. Criminal Justice and Public Policy student Nathaniel Brown received the McKendry-Baker Memorial scholarship.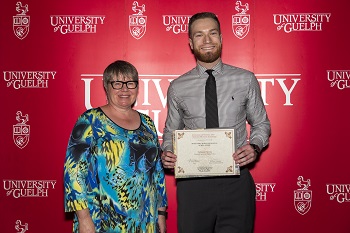 The importance of even a slight decrease in financial stress cannot be overstated. Without this stress, we can continue to focus less on making money and focus more on our academics and giving back to the university and wider community. It pushes us to continue to strive for greatness and give back.
Nathaniel Brown
Criminal Justice and Public Policy Student
Applying for Awards
Some scholarships require an application, whereas others are based on recorded marks, with no application necessary. To learn more about awards, visit Student Financial Services.
Award Recognition
Annually, the College of Social and Applied Human Sciences (CSAHS) distributes over $500,000 in student awards and recognizes the academic achievement and outstanding leadership of over 200 students. Many of these awards are generously funded by donors who see the importance of supporting students in their academic and professional pursuits. We are so proud of the excellence of our students and the generosity of our donors.
Types of Awards
These include guaranteed scholarships awarded to students with an admission average of 85% or higher and various other awards that require an application. These are awarded for past achievements involving extra-curricular activities, demonstrated leadership ability, volunteerism and more.
These scholarships are awarded to undergraduate students based on participation in community-based service, curriculum-embedded experiential learning and course-related international travel.
See the world as part of your learning experience. Travel Grants are for students travelling in Canada or internationally as part of their program, including exchange programs. These grants help to offset costs like airfare, vaccinations, travel insurance costs and other costs associated with travelling.
Note: All travel grants have been suspended until further notice as per COVID-19 protocols.
Bursaries are provided to students who apply for and demonstrate a need for financial assistance. Bursaries are available to students that are entering or are already enrolled in undergraduate or graduate studies.