Celebrating CSAHS Black Graduate Students
We are proud of all the wonderful work that our Black graduate students are doing. Black History Month is a time to celebrate their work and accomplishments. The projects and investigations they undertake help to improve life for everyone around them.
Below is just a sampling of what some of our Black graduate students are working on:

Emmanuel Tamufor
The Pathway to Canada's Target 1: A Pathway to decolonizing Canada's conservation policy and practice?
Emmanuel Tamufor is a PhD Candidate in Geography, Environment & Geomatics and International Development Studies at the University of Guelph.
Emmanuel uses political ecology, policy science, and decolonization theories to research reconciliation and conservation policies and practices in Canada. He examines the Pathway to Canada Target 1 to identify practices in the Pathway policy cycle that either support or undermine reconciliation and decolonized conservation so that the insights can be used to improve conservation policy processes in Canada and in other countries seeking to reform their conservation policies.
He explores international and domestic conservation and reconciliation policies to propose reforms in conservation policy and practice in the spirit of reconciliation. The main international conservation and reconciliation policy instruments he explores are the UN Convention on Biodiversity's (CBD) Aichi targets, including the upcoming Post-2020 targets, and the United Nations Declaration on the Rights of Indigenous Peoples (UNDRIP) respectively. The domestic policy instruments that inform his research include the Truth and Reconciliation Commission (TRC) calls to action and the Pathway to Canada Target 1.
Emmanuel's research is part of the Conservation through Reconciliation Partnership (CRP) project. He is currently the coordinator of the student and postdoc researchers' community of the CRP. The CRP represents a seven-year program of work hosted by the IISAAK OLAM Foundation, the Indigenous Leadership Initiative, and the University of Guelph that weaves together a wide range of partners including Indigenous thought leaders, organizations, youth, and Elders; emerging and established scholars; prominent conservation agencies and organizations; Indigenous Peoples and Nations; and knowledge mobilization specialists, united in the goal of supporting Indigenous-led conservation in Canada. It is a coalition of Indigenous and non-Indigenous leaders and organizations, scholars, conservation agencies and organizations, and knowledge mobilization specialists that act on the ICE recommendations.
Besides Emmanuel's PhD research, he also does research on growing organic tropical crops in Canada. The aim is to use his experiments to develop more knowledge on simple techniques for sustainable food production in remote permafrost areas with food security issues in Canada. The research may also be helpful to individuals and communities struggling to curb food costs anywhere in Canada and beyond as purchasing power continues to drop in the face of price hikes in goods and services. Emmanuel relies on Indigenous knowledge acquired from his mother and rural farmers in Cameroon to grow crops like scotch bonnet peppers, cocoyams, lemongrass, pineapple, etc. (see photos. Photo of scotch bonnets taken on the last harvest day). Emmanuel grows and develops seedlings using reused containers and other materials, giving them a second life as a means to fight climate change. Emmanuel focuses more on Indigenous knowledge and methods to grow these crops because he also wants to showcase the contribution of undermined Indigenous knowledge to science.

McKaylah Nurse
Researching access to family services, and experiences in the child protection system for children with disabilities
McKaylah Nurse is an international Master's student from Barbados in the Department of Family Relations & Applied Nutrition's MSc program in Couple and Family Therapy (MSc. CFT). As a CFT-Intern, McKaylah undergoes intensive professional training that combines academic coursework and research with clinical training and supervision. Thus, she continues to gain knowledge and skills for the practice of relational and systemic psychotherapy. So far, she has accumulated over 300 direct clinical hours with individuals, couples, and families.
In Summer and Fall 2021, McKaylah was a lead researcher with the College of Social and Applied Human Sciences (CSAHS) Dean's Office on student consultations to inform the design of a mentorship program for BIPOC students. Along with Natalie Stravens, McKaylah conducted consultations with exemplary programs identified in a best practice scan, as well as a total of 37 consultations with graduate students within the CSAHS and College of Arts that highlights priorities and considerations for offering mentorship and support to BIPOC students at the College level. Previously, throughout her undergraduate studies, McKaylah worked in the CSAHS Associate Dean's office as a research assistant. She provided tremendous support in surveying curriculum changes across other universities, and also worked on helping to develop and identify organizations and employers to support our growing co-op programs.
Since Fall 2021, McKaylah has worked as a Graduate Research Assistant with Dr. Tricia van Rhijn and Dr. Donna Lero to better understand how parental employment is impacted by access to services for children with disabilities. This research is funded by a SSHRC Partnership Grant that is focused on reimagining Canadian family work policies.
Recently, McKaylah began working at the Community Engaged Scholarship Institute (CESI) as a Researcher at the Research Shop. Her project will focus on youth with disabilities and experiences in the child protection system.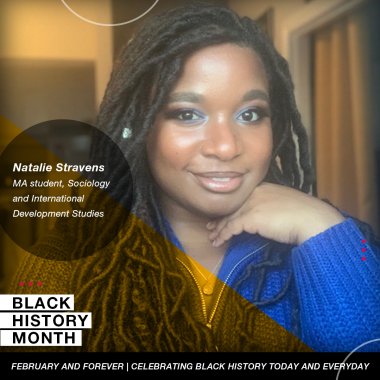 Natalie Stravens
Access to mental health care services among recent East African immigrants in Southern Ontario
Natalie Stravens is a Master's student in Public Issues Anthropology and International Development Studies, focusing on digital anthropology and the interface between issues crucial to governance, cultural discourse, livelihoods, civil society, and contemporary public issues.
As part of her graduate studies, Natalie is examining access to mental health care services among recent East African immigrants in Southern Ontario and conducting interviews with im/migrants from East Africa, as well as mental health care providers and others working with im/migrant populations.
From January to December 2021 Natalie was a lead researcher with the College of Social and Applied Human Sciences (CSAHS) Dean's Office. She worked to develop an annotated bibliography, literature review, inventory of structures and models currently available for BIPOC graduate student mentorship in Canada and beyond, and a best practice scan for the development of a BIPOC Graduate Student Mentorship Program in CSAHS. Along with McKaylah Nurse, Natalie conducted consultations with students, faculty, and relevant experts in the post-secondary sector. Natalie produced executive reports on the research findings and highlighted critical considerations, priorities, and key recommendations for providing mentorship and support to BIPOC students in the College.
Natalie recently completed a Graduate Certificate in Research Administration and worked as a Graduate research assistant with Dr. Elizabeth Finnis on a project focused on farming communities in Northern Ontario. Natalie is the author of a paper, The Memeification of Black Women's Trauma, published in New Sociology: Journal of Critical Praxis in 2021, that discusses themes such as misogynoir, gendered violence, virtual communities, intersectionality, and racism. In the realm of digital anthropology, Natalie has also worked on an undergraduate multimedia ethnographic project comparing the impacts of globalization and the experiences of university students in Canada compared to those who are in Kenya.
Awards Available to Black Graduate Students
(CSAHS) Graduate Excellence Scholarship [I6041]
Canadian citizens or permanent residents entering any graduate program in the College of Social and Applied Human Science who demonstrate outstanding academic performance and/or potential, and leadership potential, either through past achievements or through their proposed research program and career aspirations. Preference will be given to Black, Indigenous (First Nations, Inuit and Métis) or a racialized person.
Share this page
News Topics