Black History Month events and activities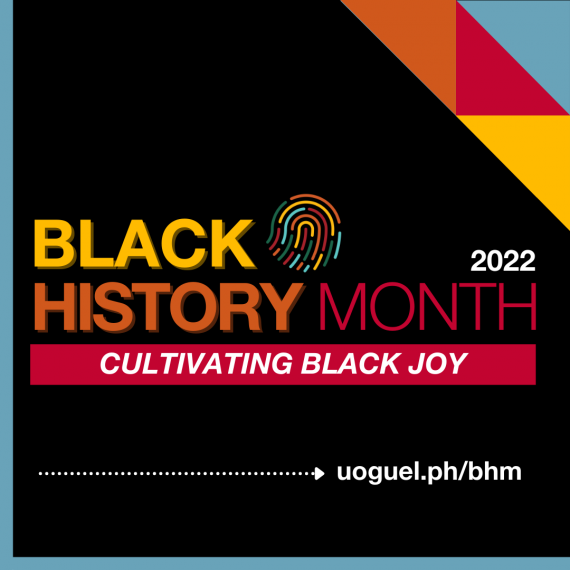 Details
The College of Social and Applied Human Sciences welcomes you to celebrate Black History Month events and activities along with the University of Guelph and the Guelph Black Heritage Society (GBHS). The theme this year across Canada is February and Forever: Celebrating Black History today and every day
---
Events
The College is happy to invite Dr. Amadou Ba to speak on the subject of 400 years of Black history in Canada: Should we continue to exclude it from Canadian school and university programs?  February 15, 12pm-1:30pm
---
Other Events
The Guelph Black Students Association and the cultural diversity office within Student Experience have lined up a number of events and activities that all are encouraged to take note of.
Keynote address with Minna Salami, Feb. 2 at 6 p.m.
A conversation on Black joy, empowerment and liberation with award-winning author and social critic Minna Salami.
Stirrin' the Pot: Afro-Caribbean Cooking Class, Feb. 8 at 5 p.m.
Chef Vanessa Simon will show participants how to create some delicious Caribbean dishes.  
Workshop: Mapping Out Your Pleasure and Liberation, Feb. 9 at 5 p.m.
Hosted by sexual health educator Natty Love, this workshop is an interactive and explorative guide on how to begin liberating your sexual pleasure through a trauma-informed, African, Caribbean and Black lens.
Who's Got Game? Virtual Games Nite, Feb. 10 at 6 p.m.
A virtual games night with prizes 
Screening and Discussion of "Our Dance of Revolution," Feb. 11 at 6 p.m.
A screening of "Our Dance of Revolution," a documentary that tells the story of how Black queer folks in Toronto resisted the forces of marginalization and rose up to become a vibrant, fierce community. This event is held in collaboration with Guelph Pride.
The Black Experience Workshop, Feb. 15 at 6 p.m.
Radical awakening, relearning and celebration is the focus of The Black Experience Workshop led by local anti-racist educator Selam Debs.
Workshop: Dancing through the Diaspora, Feb. 28 at noon
A dance workshop featuring various styles from the African diaspora, including soca, dancehall and afro styles. This workshop is led by Guelph-based dance instructors Kween and Binty.
---
Student Features
Featuring Emmanuel Tamufor PhD(c), McKaylah Nurse MSc, and Natalie Stravens MA.
---
Student Awards
Established by Dr. Ian Spears and Sarah Atkinson to encourage students to explore diverse learning opportunities and gain valuable life experience. Apply to Student Financial Services with a completed Need-Based Travel Grant Application by March 15 for summer travel or June 30 for fall and/or winter travel and, if applicable, a statement self-identifying as a Black, Indigenous (First Nations, Inuit and Metis) and racialized student.
Students registered in the International Development major or the Political Science major who are participating in course-related international travel and have demonstrated financial need. Preference will be given to students who are Black, Indigenous (First Nations, Inuit and Metis), or identify as a racialized person.
Established by Marilyn R. Entwistle, a graduate of the College of Social and Applied Human Sciences (CSAHS), on the list of Canadian Women Leaders in Global Health, and an enthusiastic supporter of international development studies in CSAHS. The scholarship is intended to enhance student diversity in CSAHS and support Black students and students who identify as persons of colour as they pursue post-secondary education. Submit an email by April 15th to awards@uoguelph.ca identifying as Black or a Person of Colour. Selection will be based on highest admission average.
Black students, or students who identify as a Person of Colour, entering any undergraduate program in the College of Social and Applied Human Sciences. Preference will be given to students admitted to International Development Studies major.
Mary Anne Chambers Entrance Bursary [E3126]
Established by Dr. Mary Anne Chambers, honorary degree recipient and valued contributor to the University of Guelph's mission to improve life. Apply by April 15 to Student Financial Services with a completed Financial Need Assessment Form for Entrance Awards (E.N.A.F.) and email a statement to awards@uougelph.ca identifying as a Black student.
Black students entering a program offered by the College of Social and Applied Human Sciences with demonstrated financial need.
---
New minor in Black Canadian studies
The Black Canadian Studies minor is dedicated to promoting the unique histories, experiences, communities, and politics of Black Canadians. Our students engage with Black political and labour initiatives, as well as Black creative expression in the arts through literature, music, and narratives in popular media. We explore contemporary and historical questions and examine how Black Canadians have worked to shape our society and contribute to our understanding of the world.
Event Website