Personal Strategic Planning - Career Developmental Crafting
Location
UNIVERSITY CLUB  |  VIP BOARDROOM
5TH FLOOR  |  UC BUILDING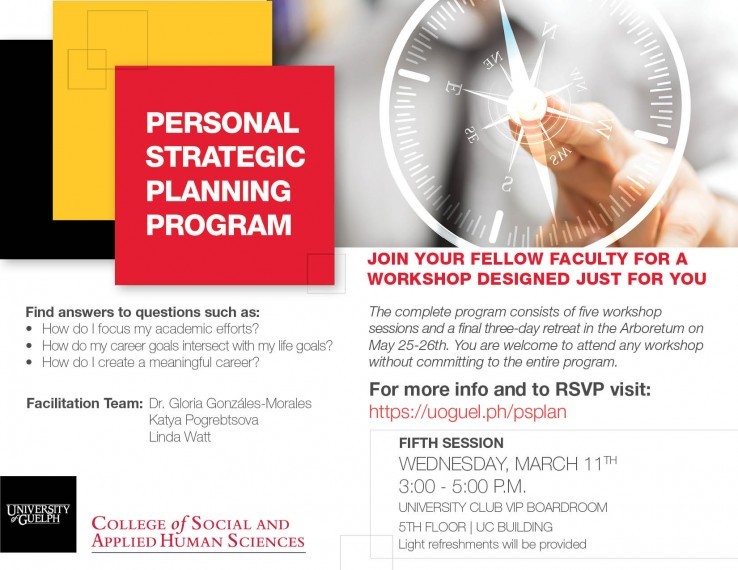 Details
As faculty, we face a range of stressful circumstances, frequently resulting in experiences of burnout.  At the same time, we enjoy challenging yet positive experiences in the advancement of our academic careers.
Some of us need to regain the energy lost in the process, others need to figure out a way to obsess less about work, and still others aim to balance having a fulfilling and enriching life with generating a real and significant impact through their work.
CSAHS faculty will have the opportunity to benefit from a Personal Strategic Planning Program. This will include:
engaging sessions
access to online resources and activities
final 3-day retreat in May
We aim to provide a structured opportunity to support faculty, helping them to purposefully and positively shape their personal strategic planning as well as to be re-energized and re-engaged
Main questions and topics of discussion we will cover
How do we focus our academic efforts?
How do your career goals intersect with your life goals?
How do we create a meaningful career? 
Outcomes of the program:
Participants will have dedicated time to create the following outputs:
Personal job crafting and alignment resources and institutional strategic planning
Long-term strategic plan
Short-term strategic plan
Support network: Who are the people we can turn to for help and advice?
Event Website