Sex Is a Funny Word: Re-imagining Sex Education for a Better World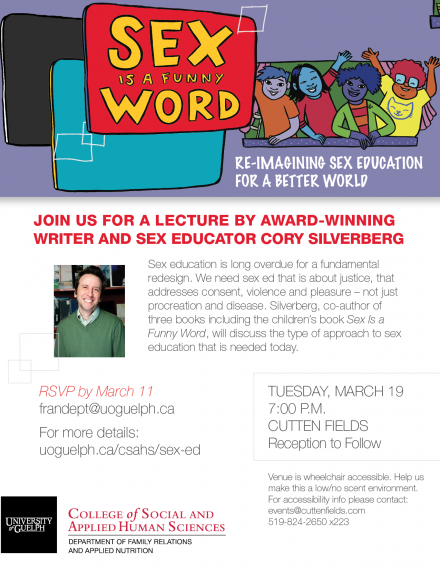 Details
Sex education is long overdue for a fundamental redesign. The promise of value-neutral sex education is a dangerous fairy tale that ignores the world we live in. The fact is that public sex education – like sex itself – has always been political. We need sex ed that is about justice, not just procreation and disease. While young people are the ones driving new language and new ways of thinking about gender and sexual identity, they need education that addresses consent, violence, and pleasure. They are learning about sex in spaces well beyond the locker room and classroom and its time we had an approach to sex education that could meet them there.
RSVP by March 11 to frandept@uoguelph.ca
The venue is wheelchair accessible. Help us make this a low/no scent environment. For accessibility info please contact:
events@cuttenfields.com or 519-824-2650 x223.
BIO:
Raised by a children's librarian and a sex therapist, Cory Silverberg grew up to be an award-winning writer and sexuality educator. Cory received a master's degree in education from the Ontario Institute for Studies in Education at the University of Toronto. Since 1997, he has developed and facilitated workshops for agencies and organizations across North America on a range of topics including gender expression and identity, sexuality and disability, technology and consent, and access +inclusion. He is the co-author of three books, most recently the ALA Stonewall Honor Book Sex Is a Funny Word, with Fiona Smyth.