Serving Scholars program a success at the University of Guelph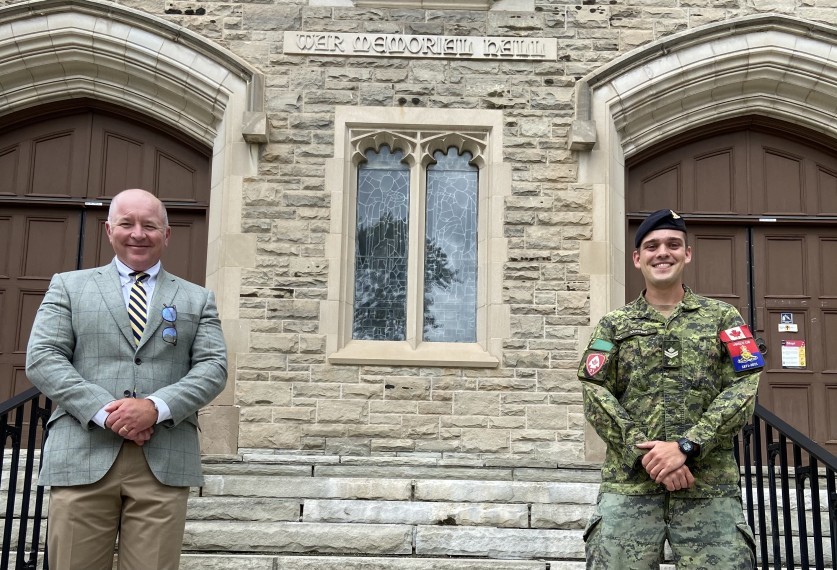 2017 saw some of the worst flooding in Quebec in over 50 years. A large blizzard late in the season followed by heavy rains throughout April had the Ottawa River Basin spilling over its banks, breaking dykes and inundating streets and homes with floodwaters.
By May, Montreal and surrounding towns declared a state of emergency. More than 1,200 members of the Canadian Armed Forces were sent in to assist.
Darren Sargent, a reservist and gunner of the 11th Field Regiment in Guelph, Ontario was one of those who volunteered for the assignment. At the time, Sargent was also a first-year psychology student at the University of Guelph.
"I was happy to go," said Sargent. "It was a lot of throwing sandbags, building dykes and blocking waterways. In the end we were able to save a few people's houses, which was a great feeling. Luckily, it was right after exam period and I could go."
Sargent's comments highlight a challenge that many young ones in the reserve forces face – juggling an academic life with their obligations as military personnel.
A new program at the University of Guelph called Serving Scholars assists young soldiers in navigating those challenges.
"When students are away serving our country, they are unable to submit assignments, complete exams, that kind of thing. So we wanted to create a program that helped," said Dr. John Walsh of the College of Arts who helped develop the program. "Before, when students were faced with conflicts, they had to make a decision, 'Am I a student or am I a reservist?' I wanted to help create a system whereby they never had to make a choice. Thus the name 'Serving Scholar' binds the two parts together."
There are approximately 30 Serving Scholars presently enrolled at the University of Guelph. Much like high-level athletes at the University, these students are now able to request accommodations when they need to be on duty and are given access to things like early course registration when their military activities would normally put them at a disadvantage.
Darren Sargent, himself in the final year of his BA program, acts as an advisor for the program helping students communicate their needs to professors.
"It's always been good interactions," said Sargent. "The professors are usually willing to help out. We've never had a professor say, 'No, I'm not rescheduling this exam for you,' or anything like that.
Guelph is home to the 11th Field Artillery Regiment, a reservist unit with a long history which evolved out of the militia artillery unit that was formed in 1866, in response to the raids of the Irish Fenian Brotherhood. Reservists are members of the Canadian Armed Forces that train and serve part time. One evening a week and one full weekend per month they are involved in military activities. These often include combat exercises in far-flung places.
"I got to see some of these students in action during a [military] exercise," said Walsh. "I just could not believe the complexity and intensity of what they were doing. What they put their bodies, souls and minds through – to do that for us – is just beyond impressive. When they are operating in such extremely tough conditions, I don't want part of their mind wondering if their assignment is going to be accepted or not. We owe them that peace of mind."
For Sargent, now a master bombardier with the Guelph unit, this program has done just that. It has given the peace of mind needed to pursue both a higher education and military service.
"The members of the Canadian Armed Forces at the University of Guelph have contributed a lot of their time and effort to the defense, security and well-being of their communities and country," said Sargent. "[The Serving Scholars program] helps ensure that their academic needs are still met."