Painting a Clearer Picture of International Students' Experiences of Gender-based Violence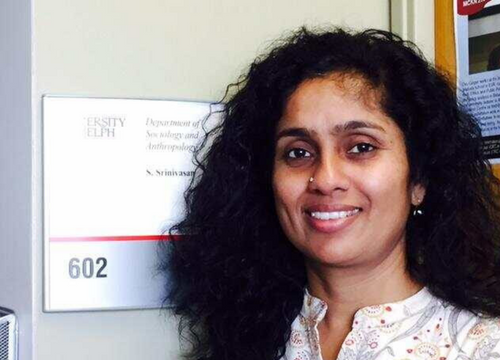 Gender-based violence is an unfortunate reality for some students at post-secondary institutions and is an important issue that campuses are working to address. However, little is known specifically about international students' experiences of gender-based violence. This is the focus of new research by Dr. Sharada Srinivasan, Canada Research chair in Gender, Justice and Development and Associate Professor of Development Studies in the Department of Sociology and Anthropology. 
"Canada is the world's third leading destination for international students and international students are acknowledged as an indispensable demographic contributing human capital and revenue to Canada, yet they are poorly supported, represented, and understood," says Srinivasan. "We hope to be able to understand international students' experiences of gender-based violence in Canada so that we can take steps to provide a physically and psychologically safe environment for these students." 
Srinivasan argues that federal and provincial governments have increased efforts to attract international students to counteract the ageing crisis but have not done enough to support these students with awareness, research, resources and support. International students may have experienced gender-based violence in a country with oppressive gender norms or upon arrival find themselves in exploitative conditions that make them vulnerable to gender-based violence, impacting their physical and mental well-being in Canada. 
To undertake this work, Srinivasan and co-applicant Dr. Shivajan Sivapalan, a campus physician at Ontario Tech University and Durham College and Director (operations) of the SAAAC Autism Centre, have been awarded a Social Sciences and Humanities Research Council (SSHRC) Knowledge Synthesis Grant. These grants enable researchers to examine and combine existing knowledge on gender-based violence in order to identify research gaps and better inform policy-makers and service providers. 
The team will use this grant to hire Graduate Research Assistants who will perform a scoping review based on scholarly materials, reports from governments, community-based organizations, postsecondary institutions, news and social media, blogs, and other sources focused on international students.  
In addition to this review, Srinivasan and Sivapalan will also organize 12 workshops with researchers, international students, frontline staff at postsecondary institutions, community-based organizations and government agencies across Canada who work with international students to generate additional insights, identify gaps, and give recommendations for further research and practice based on the scoping review.  
Ultimately, the insights from this project will be shared with stakeholders via an open access journal article and multi-media materials, giving service-providers and policymakers the tools and information they need to better support international students in Canada. 
If you can assist this project with information about research or a report addressing gender-based violence among international students, please contact Srinivasan at sharada@uoguelph.ca.  
Share this page
News Topics