Collaboration and Mental Health Lead to New Centre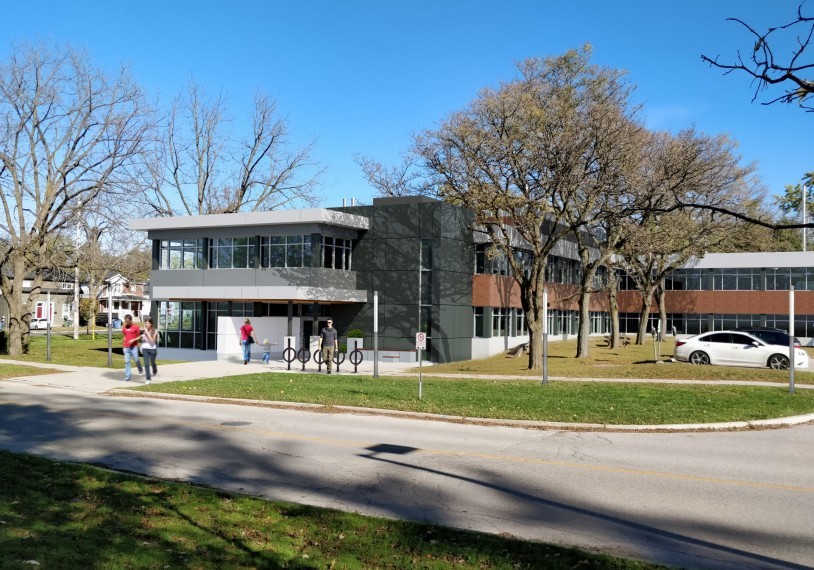 If you have driven along College Avenue in Guelph sometime in the last year and a half, you may have noticed some hefty construction happening at the corner of College Avenue and Smith Lane. The building known as the former VMI (Veterinary Microbiology and Immunology) building has undergone a complete transformation, both inside and out, in order to house the new Maplewoods Centre for Family Therapy and Child Psychology.
The Centre for Psychological Services (CPS) and the Couple and Family Therapy Centre (CFTC) have each been pillars of the mental health community at the University for decades. They have been outward facing centres, offering their services to students and those in the local community. They have also worked with respective programs to provide hands-on training for graduate students.
The Centre for Psychological Services and the Department of Psychology's clinical child and adolescent psychology graduate program work hand in hand. As part of the program, students have opportunity to engage in clinical training ­– offering psychological assessments and therapy to clients under the supervision of clinical faculty and staff. This hands-on nature of this program makes it one of only a handful of child and adolescent focused accredited clinical psychology programs in Canada.
Likewise, the Couple and Family Therapy Centre gave graduate students in the Department of Family Relations and Applied Nutrition's couple and family therapy program the opportunity to put their classroom learnings into action by offering relational therapy to families, adolescents and adults at the University and in the general community.
However, in recent years the buildings which housed these two individual centres had become outdated and no longer adequate to meet their needs. As administrators considered what to do, it became clear that placing the two centres together in the same physical space would likely create unique opportunities for collaboration. Both centres acted in a similar way, as clinical training programs – allowing graduate students the opportunity to gain supervised experience in a clinical environment. Both needed access to similar spaces and equipment. Both were providing a service to the community.
With this in mind, in 2017, it was decided that the former VMI building would be designated as the new home for these units. As plans to develop this joint space continued to progress, it became obvious that the right decision had been made. There were going to be a number of opportunities for collaborative, interdisciplinary work.
"It will be exciting to see what interesting collaborations come out of this centre which is the first of its kind in Canada," said Department of Psychology chair Ian-Newby Clark. "We may even see a combined PhD in child psychology and family therapy at some junction. Now, that would be a first."
The new Maplewoods Centre with its wood-textured ceilings and bright teal interior will open its doors in the near future. Inside the joint space, students staff and clients will all benefit from the dynamic environment that combining two centres from two different-disciplines brings. We look forward to seeing the future by-products of this match made in Maplewoods.
Learn how to support Maplewoods Centre for Family Therapy and Child Psychology.
Share this page
News Topics