Abhilash Kantamneni: The "Guelph Maps Guy"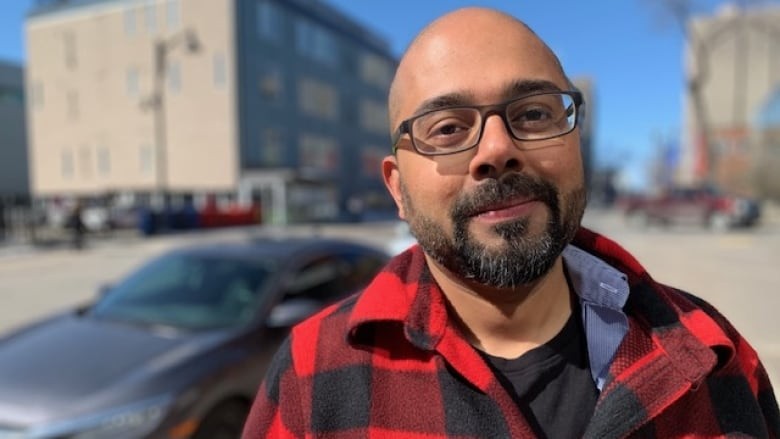 Even long-time Guelph residents might not be familiar with Guelph's vast array of parks, where to find the best places to eat and shop locally, or who in Guelph has the best Christmas lights display. However, thanks to Abhilash Kantamneni, a PhD candidate in the Department of Geography, Environment & Geomatics at the University of Guelph, anyone with access to the internet and a sense of adventure can become an aficionado of the royal city.
Since first moving to Guelph in 2016, Abhilash Kantamneni (a.k.a. the Guelph Maps Guy) has taken to mapping things in and around Guelph. In the belief that one should add value to the place they call home, Abhilash has taken his professional skills and love of maps to create maps of everything – from which houses have the best holiday decorations, to where to find the best sledding hills.
I had the chance to sit down with Abhi and ask him about the mapping projects he has been working on.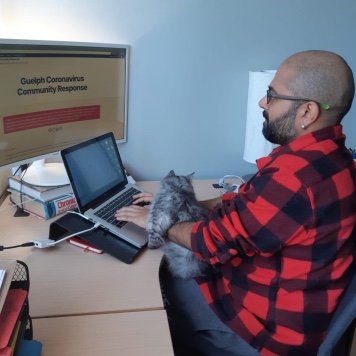 How would you explain your mapping project to someone who has never heard of it before?
It's a project that seeks to help people develop a sense of belonging with the place they call home and my approach to doing that is through mapping the things that matter. The maps are a means to help people discover parts of the city that they haven't discovered before and get them exploring within their own community.

In making these maps, I hope to encourage people to make a connection with the place they call home. Find some goofy hobby or talent (like mine is making maps) and use that as a means to take an active interest in your city.

During Christmas time, I made maps of households that had these beautiful Christmas lights decorating them so that people could go out and visit these houses. I made little routes, so all people had to do was access directions on the website. I'm working right now on a walkable map of all the little libraries in Guelph.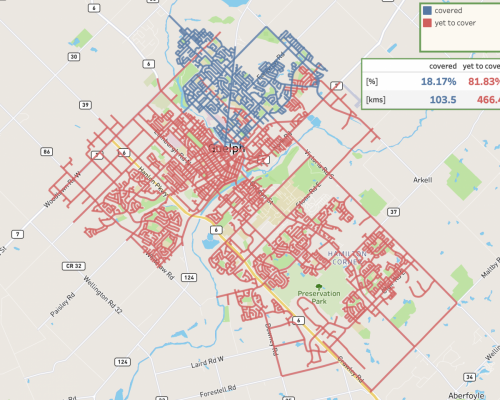 That's so interesting. I love this initiative and I love that maps are what you decided on. Can I ask, what was the first map you ever made in Guelph?
The first map that I made was when COVID first started in March. I made an interactive map of all the different restaurants that were offering takeout and delivery. By now, we've kind of gotten into the habit of doing takeout, but in the first week or month after COVID started, most of us were unsure of when restaurants were actually open. I crowdsourced a raffle to get people to fill in an online survey to get hours, addresses and locations of local restaurants.

Someone from a local charity reached out to me shortly after that and asked if I could make a map of all the shelters that were currently offering food. So, I made that as my next map. In that map, the charities could update their own locations and revised hours by filling out a Google form. The map would automatically reflect the changes. Those were some of the first maps I made. Over time, I made maps for Halloween, Christmas and things like that.
I love it! That's awesome. Did you discover anything during the creation of these maps that really surprised you? Did anything jump out at you that was new or different?
I moved to Canada from India about four years ago and one of the things that I'd never seen before were these little neighbourhood libraries. There are at least 80 families around Guelph who have created these little libraries. Some of the libraries have more than just books. Some people use them to share donations and food. This surprised me and made me really proud to call Guelph my home.

Another map I made was of all the parks in Guelph. In making it, I walked all over Guelph, through the different parks and neighbourhoods. You learn a lot about a community when you walk through it as opposed to just driving through it. Every time I talked to someone new, I felt like I learned a little more about the history of the place. Once, someone's grandmother tried to send me home with a jar of pickles she made (laugh).

When you walk around the city you also begin to recognize just how challenging a lot of the areas are in terms of accessibility. I was talking to someone who has physical mobility needs, and they were telling me that these days, during the pandemic, there is very little they can do. There are very few public gathering places. It used to be that they could go to the mall or somewhere to eat and gather with their friends. But now, the malls are closed. And outdoors, the sidewalks are a mess. Even when I walk around, there's puddles and potholes that make it difficult to navigate certain neighbourhoods.

So, I think you get a different experience when you walk around and really see a place. It would have been very simple for me to crowdsource information and put little dots on a map, but I walk around and make little walkable 5km-6km paths intentionally. I want to encourage people to go out for their own exercise and experience the city.
Do you have a favourite map?
One of the funnier maps I made was because of the movie, "A Christmas Story." In it there is a leg lamp. Do you know what that is?
Yes, I know the movie you mean. I remember the leg lamp.
Someone posted a picture of the leg lamp on Facebook, and in the comments, I think half a dozen people said, "I have a leg lamp too!". It turns out over 30 people in Guelph have a leg lamp on display in the front window of their home. I had no idea there was such an underground movement of people who love this leg lamp. So, I made a map of all the leg lamps in Guelph. It also somehow ended up being almost the shape of the leg lamp.

When I made the Christmas lights map, I asked a couple of houses and businesses to set up donation bins outside their location. That way, when people drove around to see the Christmas lights, I could encourage them to bring food donations to drop off. Then I went and picked up the donations and delivered them to the Guelph Food Bank. Over the course of the Christmas season, I think I ended up picking up close to 400 pounds of food. It made me happy that I was able to do this and that through my goofy hobby, I was helping other people cope with what they have had to go through this past year.

The long and short of it is, I've discovered that there are so many people here in Guelph who care about their community and care about taking an active interest in their community in their own little way. Whether it's putting up a Christmas lights display, crazy Halloween decorations or trying to send a stranger home with a jar of pickles. There's so much active love happening in in this community that I think we sometimes miss when we're not paying close enough attention.
Thank you for sharing that. What do you think you are the proudest of?
I'm not sure if proud is the right word, but I know that a many of us are dealing with a lot these days. And I know that we're all trying to find ways of breaking out of bad habits we may have developed. But, I think that home is a habit and I think that belonging can be a practice. By this I mean that just like any other habit, you can cultivate good habits. And I think you can nurture a sense of belonging in a place. What I'm really happy about, is that the work that I have done has helped me call Guelph home even though I didn't grow up here. I don't have any connections here. My wife's family isn't even from here. For someone like me to come from somewhere so far away and be able to call this place home is important. I am happy with how I have been able to connect with this place during the last year.

I'm also very happy because I get a lot of notes from people; messages, emails, contacts from Facebook, saying that these maps have really helped them and their families find things to do together. Making these maps has taken a lot of time – I'll be honest. I work full time. I'm doing my PhD part time. I have a family, my wife and I and our cute little cat. During of all this, I have to try to carve out some time for map making. But the sense of satisfaction you get from making people feel like that, I think it's unparalleled. I look back on this and I have nothing but gratitude for everything that's gone on.
I can only imagine. I think you're doing wonderful things for the community, and I appreciate you taking the time to talk to me about it today.
Thanks Ellie, I appreciate that. It's my pleasure.