Working to improve equity and inclusivity with donor support
If glass ceilings are a metaphor for a barrier that prevents a marginalized group from advancing, then Dr. Mary Anne Chambers is a diamond – a material that cuts through glass with alacrity.
In 1988, Dr. Chambers shattered many of the glass ceilings that had long been in place in Canadian business by becoming a vice-president for Scotiabank. She was young – only 38 years old – she was a mother of two, she was Black and she was an immigrant, but none of that held her back.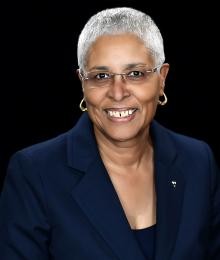 In 2002, when Dr. Chambers retired from her position as a senior vice-president with Scotiabank, it was the end of a whirlwind career in banking. After emigrating to Canada from Jamaica with her husband and two young sons in 1976, she started as a programmer/analyst  with the company. She quickly rose to be one of the organization's youngest vice-presidents, just 12 years later. In a speech to a UN forum, she noted that she was the first black woman in Canada to have attained such a level of seniority in that sector of Canadian business.
Diamonds have another beautiful quality, they take in light and refract it back in every direction in a dazzling display of colour. Dr. Chambers has that same quality. She has never taken what she has for granted, but has taken every opportunity to shine a light on the struggles of others and to look for ways to use what she has to help.
That spirit led her to enter provincial politics soon after her retirement. She served as Minister of Training, Colleges and Universities from 2003 to 2005 and then as Minister of Children and Youth Services from 2005 to 2007. In these roles she worked to improve access to education and was responsible for introducing legislation that made it easier for children in the child-welfare system to find permanent homes.
Access to education has long been a passionate subject for Dr. Chambers.
"A post-secondary education is often the critical turning point in the life of a young person," said Dr. Chambers. "It is the difference between despair and hope, and the opportunity to replace barriers with success. It is also an investment that builds resilience in both individuals and communities."
As a member of the University of Toronto's Governing Council from 1993 to 2002, Dr. Chambers helped author a policy affirming that no student would be prevented from studying at the University due to inadequate financial resources. She has also backed up that stance by personally funding more than 35 scholarships at universities and colleges across Ontario.
Dr. Chambers came to the University of Guelph in 2010, as a member of the University's Board of Governors. It was an instant fit. The University's goal was to "Improve Life," something that she had worked her whole life to do. She stayed on as a member of the Board of Governors until 2016, and was awarded an honorary Doctor of Laws degree by the University in 2017. She now serves on the board of the Guelph Institute of Development Studies.
Recently Dr. Chambers decided to set up an entrance bursary with the College of Social and Applied Human Sciences (CSAHS) that would be awarded to a Black student.
"There is no shortage of talent, potential or ambition among Black students," said Dr. Chambers. "I am simply trying to lessen the significant economic disadvantage that too many of them face. A commitment to equity requires us to step forward, to share our privilege with others so that together we can help make our society stronger."
One of the College's strategic priorities is to provide a "healthy, productive and diverse…learning environment that fosters the ability of students… to thrive and succeed." In order for that to happen there needs to be equity and inclusivity. Unfortunately, that is not always the case.
The College is constantly working to improve the learning experience for students and remove any hinderance to a quality education. Dr. Chambers' bursary is just one of the new scholarships which addresses this issue. There is also a new CSAHS Indigenous Student entrance bursary which goes to an Indigenous student entering a College program and who has financial need. A suite of scholarships to support Black and Indigenous students entering a graduate program is also under development.
Money is not the only thing needed to create an equitable environment for students who may belong to marginalized groups – but it is a place to start. The College has recently decided to establish a fund to support curriculum redevelopment so that courses reflect the interests and needs of BIPOC students. The College is also creating a fund to support graduate student research projects focusing on anti-Racism, decolonization and reconciliation. With the support of a generous donor, the Department of Psychology has created the Workplace Equity, Diversity and Inclusion Graduate Research Fund. The University has also provided a new Equity, Diversity and Inclusion fund of $200,000 open to students, faculty and staff for initiatives that foster equity and inclusion on campus.
Realizing that more is needed, acting dean Byron Sheldrick has made addressing questions of diversity and inclusion a priority for the future.
"The goal of enhancing equity and addressing systemic and structural racism has been part of the College's strategic plan for some time," said Dr. Sheldrick. "And we've made great progress, particularly around Indigenization and decolonization, but there is more that we must do. I am hoping that every program in the College can examine our curriculum, as well as our processes, to ensure that our commitment to inclusion, racial equity and diversity is not just an aspiration but an achievement."
Several departments and programs, including GIDS, Psychology, and Sociology & Anthropology, have established Equity, Diversity and Inclusion working groups and task forces, and are working hard to address this challenge.
True inclusivity, diversity and equality are difficult to attain – but if attained, it makes for a stronger, more resilient society. Something that is very valuable indeed.
Share this page
News Topics