Awards and Scholarships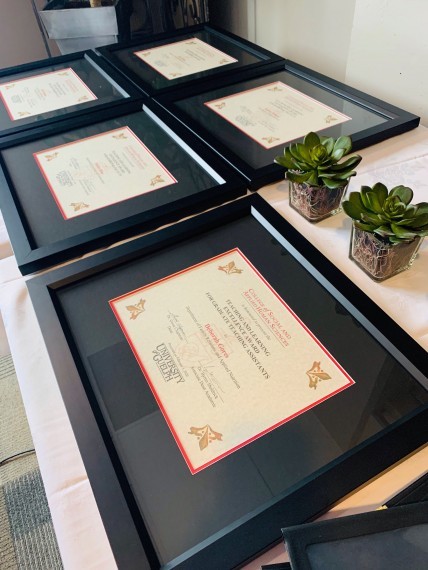 Twice a year, students and faculty from CSAHS gather to celebrate with the recipients of prestigious external scholarships, undergraduate Dean's Scholarship winners and winners of College teaching awards.
Applause is given, photographs are taken and appetizers are eaten. But more than just hollow accolades, these awards can have a far-reaching effect – especially in the lives of students.
"The importance of even a slight decrease in financial stress cannot be overstated," said Nathaniel, himself the recipient of the McKendry-Baker Memorial scholarship. "Without this stress, we can continue to focus less on making money and focus more on our academics and giving back to the university and wider community. It pushes us to continue to strive for greatness and give back."
Recipient of the Jean Rich Travel Grant, Halle de Valk-Zaiss, said, "When I found out I won this award it was like a huge weight had been lifted off of my shoulders. Being constantly burdened financially is exhausting and made me feel like I wouldn't be able to do much with my life or future. Awards like this help people like me more than you could ever imagine, and I just want you to know how incredibly grateful I am for it."
CSAHS has thousands of dollars available to undergraduate and graduate students in the form of scholarships, grants and awards. These awards enable students to broaden their horizons and pursue opportunities that they might not have been able to otherwise.
The office of Associate Dean Academic is happy to care for the dispensation of these awards. Students can view what awards are available on the CSAHS awards website.