The CSAHS Hub for Teaching and Learning Excellence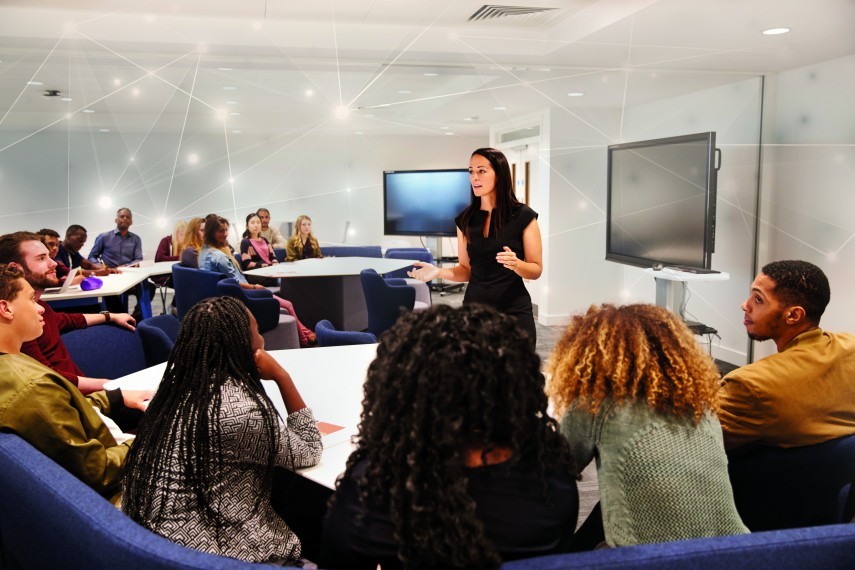 "The whole is greater than the sum of its parts," is an axiom oft' attributed to Aristotle, one of the greatest teachers in history. The College of Social and Applied Human Science's Hub for Teaching and learning Excellence, established in 2018, is an embodiment of this notion.
The Hub for Teaching and Learning Excellence was designed to be just that – a singular place to consolidate the expertise and knowledge related to teaching and learning spread across the College. It was to be a platform whereby a community of practitioners could come together to share information, teaching experiences and resources; a central knowledge hub for all things academic. "We want to tap into the wealth of knowledge that our faculty, staff and students possess and, through collaboration, to create a tool which can support and advance teaching and learning across the College," says Byron Sheldrick, associate dean academic.
In the fall of 2018, the newly established Hub for Teaching and Learning Excellence held its first lunch and learn event titled Accessibility in the Classroom. This well attended event brought together a panel of campus experts for a discussion on how to meet the needs of today's diverse student population, including those with a range of accessibility and learning challenges.
Quickly, proposals began to come in from across the College for others to share their learnings through similar events. Throughout the 2018-2019 academic year, several more successful lunch and learn presentations were hosted by the Hub for Teaching and Learning Excellence on topics such as Innovating Course Delivery, Indigenizing Curriculum and Risk and Reward in Community-Engaged Learning. These events highlighted the innovative approaches to curriculum development and pedagogy happening in the College's undergraduate and graduate programming and encouraged discussion around new and best practices.
Recognizing the vast expertise in teaching and learning throughout the CSAHS community, the Hub has expanded to include a group of Teaching and Learning Scholars – a group tasked with supporting continual improvement in the delivery of curriculum. Student representation on the Hub's advisory committee has also been sought, recognizing that gaining a learner's perspective is essential to improving pedagogy.
A new fund has also been established with the objective of supporting scholarly inquiry and professional development as it relates to teaching and learning in a post-secondary context. The Grace Porterfield Teaching and Learning Enhancement Fund – supported through a generous donation – allows for three internal grants of up to $2,500 per award. These grants are the Teaching and Learning Excellence Grant – to support projects and activities that explore or implement innovative approaches to teaching and learning; the Scholarship of Teaching and Learning Grant – to support scholarly investigations to advance the practice of teaching and learning; and a travel grant – to support attendance at workshops, seminars and conferences related to teaching and learning.
With the school year well underway, the Hub for Teaching and Learning Excellence will once again be hosting lunch and learn sessions. All are encouraged to take advantage of this wonderful new resource by attending or contributing to an event, applying to become a Teaching and Learning Scholar or taking advantage of available grants. For more information visit Teaching & Learning.
---