Women Researchers Helping Give a Voice to the Voiceless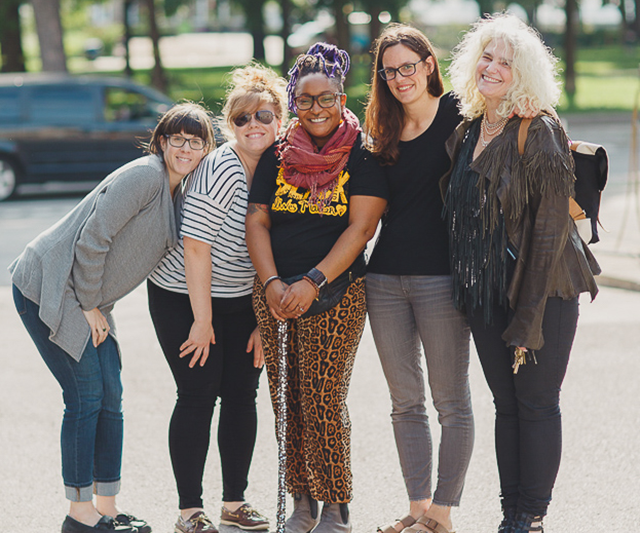 In 1914, International Women's Day was held on March 8th for the first time. Since then, the world has come a long way in recognizing the need for equality – not just for women but for all people. Despite the progress that's been made, the fight is far from over. This year during International Women's Day, the theme Balance for Better asks us to both celebrate women's achievements and continue to challenge bias.
Many women today work tirelessly to help marginalized groups. In the College of Social and Applied Human Sciences at the University of Guelph, a number of bright women scholars have dedicated their research to help give a voice to those who are often left voiceless.
One such area of research being pursued by political science Professor, Jarislowsky Chair in Families and Work, and director of the Live Work Well Research Centre, Deborah Stienstra, has to do with women with disabilities.  The research "shifts our gaze from seeing women with disabilities as vulnerable, victims, and invisible – to recognizing them as contributors, leaders and actors for their own women's rights," says Stienstra.
Women with disabilities can't be lumped into one singular category. They may have extra hurdles to overcome, but that hasn't stopped many of them from getting jobs, raising children, and acting in leadership roles. This research will help inform policy and promote inclusion in society.
The Live Work Well Research Centre is an excellent example of the interdisciplinary approach to research that happens at the College. Two of the University of Guelph's Indigenous faculty from the Department of Family Relations and Applied Nutrition lead another area of research called All My Relations. The various projects under this moniker look at giving space for Indigenous knowledge and practices.  
Kim Anderson is one of the professors leading All My Relations. She has worked at creating Indigenous feminist space on and around campus. Through two performance art pieces with the Kika'age Historical Society – a professional performance art troupe – and through her other work with All My Relations, she is helping bring attention to the Indigenous feminist perspective during an era of reconciliation.
Art can be a powerful method of expression for those who are marginalized. It can help them explore their own feelings and find their own voice. Professor Carla Rice is the Canada Research Chair in Care, Gender, and Relationships and heads the Re•Vision Centre. The centre uses the power of the arts and storytelling to open up conversations about the need for change in health care, education, and the arts sectors.
One of her research projects is titled Through Thick and Thin: Investigating body image and body management among queer women in southern Ontario. Through the medium of video, women share their stories and feelings around negative experiences within the Ontario healthcare system. This research hopes to inform discussion and help care providers develop a more critical understanding and approach to body image, weight, exercise, and nutrition with queer women clients.
Equality towards all, in all aspects of life, is something most difficult to achieve. Yet, it is something worth working towards. International Women's Day gives an opportunity for all to consider what has already been accomplished since women and those that support them first stood up and let their voices be heard. In the College of Social and Applied Human Sciences, we look for ways to give voice to the voiceless, helping create equality in all its forms – because balance is better.