Opposing Oppression: Applying Equity and Inclusion Lenses to Teaching & Learning
Location
Virtual (Zoom) 
In-person (Interdisciplinary Hub - MCKN 019)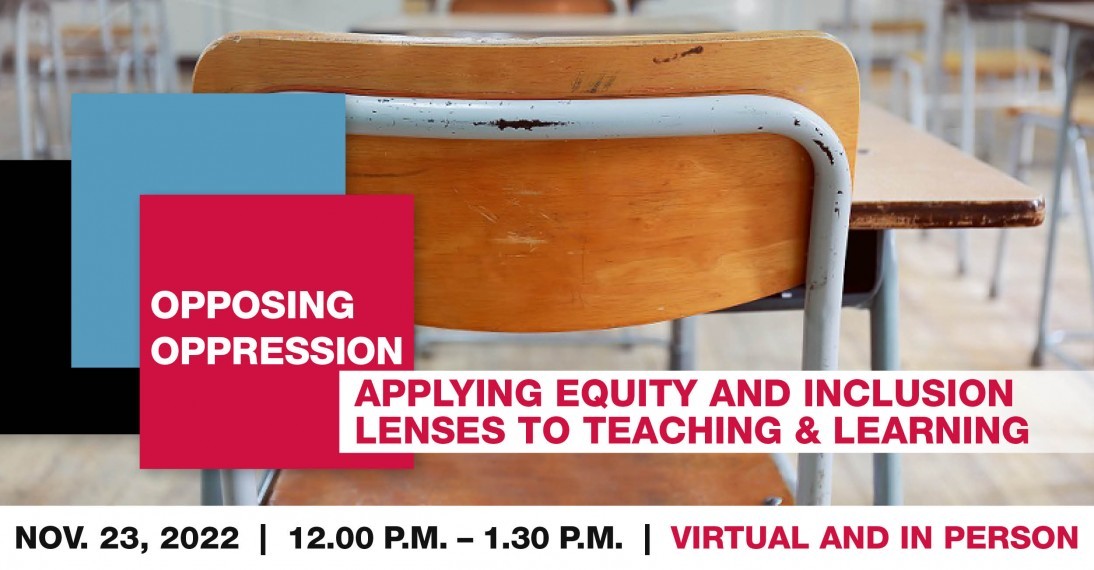 Details
This interactive session will engage critically with anti-oppression frameworks and suggest ways to apply an equity and inclusion lens to teaching and learning. Anti-oppressive teaching and learning involves both critical and practical examinations of individual, interpersonal, systemic, and cultural barriers to full participation for equity-deserving groups. 
This session will explore equity and inclusion throughout the teaching & learning life cycle and prompt discussions about equitable and inclusive pedagogy, curriculum design, instruction, and classroom environments.
Learning Objectives:
1. Gain a broader awareness of equity and inclusion in teaching and learning and understand connections between a sense of belonging and teaching excellence
2. Identify and apply key concepts, including diversity, equity, inclusion, and anti-oppression to the teaching & learning life cycle, instructional and curriculum design, and facilitation
3. Identify and apply anti-oppressive frameworks that act as catalysts for individual, interpersonal, systemic, and cultural changes
4. Be able to identify ways to implement anti-oppressive frameworks in teaching and learning.

Presenter:
Angela Guerra is the Training, Education, and Policy Officer at the office of Diversity and Human Rights. Angela delivers customized training and educational outreach programs for students, staff, and faculty to promote cultural understanding and competency and embed an anti-racism and equity lens across the institution.
Event Website