Anti-Racism Workshop with Selam Debs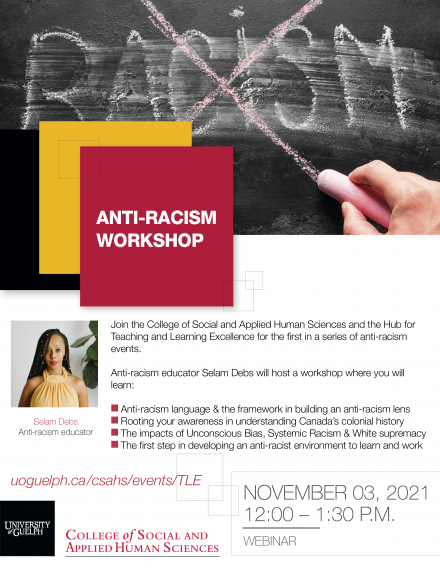 Details
Join the College of Social and Applied Human Sciences and the Hub for Teaching and Learning Excellence for the first in a series of anti-racism events.
Anti-racism educator Selam Debs will host a workshop where you will learn:
Anti-racism language & the framework in building an anti-racism lens
Rooting your awareness in understanding Canada's colonial history
The impacts of Unconscious Bias, Systemic Racism & White supremacy
The first step in developing an anti-racist environment to learn and work
About Selam Debs
I am a Black Ethiopian queer woman identified anti-racism educator, an anti-oppression coach, a social justice advocate, a student in dismantling anti-Black racism, an accomplice in dismantling anti-Indigenous racism, xenophobia, Islamophobia and an advocate in 2SLGBTQ+ & disability rights through an intersectional lens.
I am the founder of Juici Yoga, a yoga and meditation instructor, a restorative yoga teacher trainer, a holistic life coach, a reiki master, and a Lululemon Ambassador.
I AM first and foremost, A MOTHER. I am a singer and a songwriter, a poet and a practitioner of self-acceptance, self-love, and radical compassion.
My Antiracism work is rooted in the understanding that we must acknowledge and identify the insidiousness of white supremacy before we can dismantle colonial belief systems. The process of undoing, unlearning and re-educating is necessary for white communities to embark on, to support the healing journey for our racialized communities.
I AM also a board member of Project UP, Sexual Assault Support Centre of Waterloo Region (SASCW) and Women's Entrepreneur Centre of Laurier University.
You can learn more about me at www.selamdebs.com.
Pronouns She/Her/Hers
Instagram: @selamdebs
Facebook: @selamdebsyoga
LinkedIn: @selamdebs
Twitter: @selamdebs