Assisted Reproductive Technologies and Farmers in India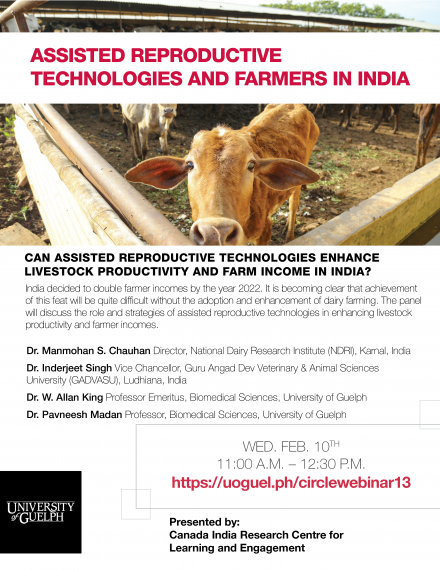 Details
Can assisted reproductive technologies enhance livestock productivity and farm income in India?
India decided to double the farmers' income by the year 2022. With just two years more to go for achieving the goal, it is quite clear that achievement of this feat will be quite difficult without adoption and enhancement of dairy farming, which has a CAGR of 19.6 per cent. Close to 85% of the farmers in India are marginal and small but own only 45 per cent of the land while possessing 75 per cent of the cattle. Therefore, for a landless person, dairying is one of the best occupations. Solution to the current agrarian distress rests in the support to the livestock and dairy sectors. The invited panel will discuss the role and strategies of assisted reproductive technologies in enhancing livestock productivity and farmers income.
Discussion Panel:
Dr. Manmohan S. Chauhan, Director, National Dairy Research Institute (NDRI), Karnal, Haryana, India.
Dr. Chauhan holds MSc and PhD degrees from NDRI, Karnal and has trained at several labs in the USA, Canada and Germany. He has significantly contributed towards the development and growth of Assisted Reproductive Technologies in India. Before his current appointment, Dr. Chauhan was the Director of Central Institute for Research on Goats, Makdoom, Uttar Pradesh, India.
Dr. Inderjeet Singh, Vice Chancellor, Guru Angad Dev Veterinary & Animal Sciences University (GADVASU), Ludhiana, Punjab, India.
Dr. Inderjeet holds a bachelor's and master's degree in Veterinary sciences and Animal Husbandry from Chaudhary Charan Singh Haryana Agricultural University (CCSHAU), Hisar. He did his PhD in animal reproduction from the University of Liverpool, UK. Before his appointment at the current institution, Dr. Singh was the Director, Animal Husbandry for the state of Punjab.
Dr. W. A. King, Professor Emeritus, Biomedical Sciences, Ontario Veterinary College, Guelph, Ontario, Canada.
Dr. King did his BSc and MSc degrees from Guelph before getting his PhD from Uppsala University, Sweden and completed his post-doctoral tenure at the Faculty of Veterinary Medicine, Université de Montréal.  Dr. King was a professor in OVC's Department of Biomedical Sciences and held Canada's only Tier 1 Research Chair (CRC) in Animal Reproductive Biotechnology until his retirement in 2018. He is currently the co-founder and president of Karyotekk Inc. 
Dr. Pavneesh Madan, Professor, Biomedical Sciences, Ontario Veterinary College, Guelph, Ontario, Canada.
Dr. Madan did his DVM & MVSc from College of Veterinary Sciences, Hisar, India and pursued his doctoral studies at UBC, Vancouver, Canada. He completed his post-doctoral training at the Western University, London, Canada. Dr. Madan is an award-winning researcher and teacher, with research interests in the area of assisted reproduction, metabolomics, gene inhibition, genetic manipulation, cloning and in developing markers for embryonic health.
Event Website