WHAT WE KNOW - Research and Insight on Guelph Wellington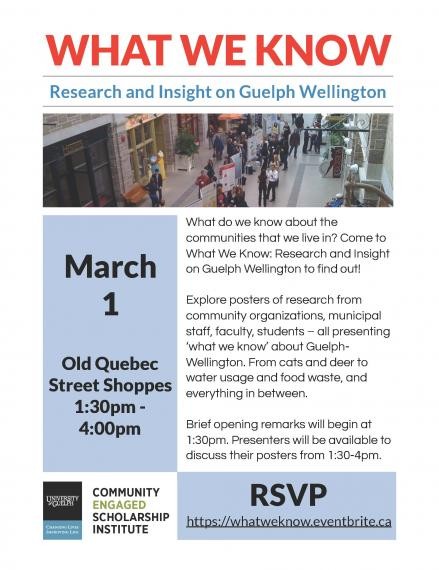 Details
What do we know about the communities that we live in?
The Community Engaged Scholarship Institute invites you to What We Know: Research and Insight on Guelph Wellington on Wednesday, March 1st, from 1:30-4pm at the Old Quebec Street Shoppes.
Join us and explore 50 posters by researchers from community organizations, municipal staff, faculty, students – all presenting 'what we know' about Guelph-Wellington. From cats and deer to water usage and food waste, and everything in between, posters will cover a diverse range of topics. Come out to this event to meet the researchers and to learn what amazing work is going on in and about our communities!
Brief opening remarks will begin at 1:30pm. Presenters will be available to discuss their posters from 1:30-4:00pm.
We look forward to seeing you there!
All posters will be on display from Wednesday, March 1st at 10am to Thursday, March 2nd at 9pm at the Old Quebec Street Shoppes