Suicide Awareness and Prevention Banquet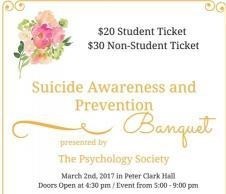 Details
The Undergraduate Psychology Society is hosting a Suicide Awareness and Prevention Banquet. This semi-formal event will consist of a 3 course meal, raffles, and engaging speakers promoting awareness and discussion about suicide ideation on and off campus. 
Tickets can always be purchased by contacting mjames02@mail.uoguelph.ca until Feb 19th, 2017. All students, staff, faculty, friends, loved ones, are welcome to attend. We are all in this together.
Other in person ticket sales include Jan 30th and February 6th in the UC Courtyard from 9-5pm. As well as Jan 31st - February 2nd in the MCKN Foyer from 9-4pm at the society's clothing sale table.
The event is a first come first serve seating basis, however organizations and large groups are welcome to reserve tables when purchasing tickets. Student tickets are $20 and non-student tickets are $30.