CSAHS Alumna Recalls Life Lessons Learned at U of G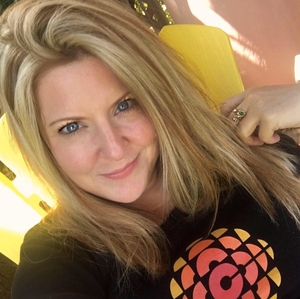 Portia Corman's life is a fast-paced ride of casting calls, content development, approvals, budgets, and meetings.
As the executive producer of CBC Life – the public broadcasting corporation's digital take on a newspaper's lifestyle section – Corman manages a large team of writers, videographers, social media mavens and the like. Her job requires her to connect with people, be persuasive, and maintain good communication and relationships – skills she credits in part to psychology courses taken during her time at the University of Guelph.
"I think psychology makes you at least consider that the person across from you comes from a different place, which is important no matter what job you do. When you are in a leadership role, it is probably the most important thing you can do," says Corman who has come to speak in Prof. Deborah Powell's PSYC*3470 class. "I use that every day because I oversee a big team and it motivates me to listen and help us do better."
An honours BA student from the College of Social and Applied Human Sciences (formerly known as the College of Family and Consumer Studies), Corman came to the University of Guelph with the goal of pursuing a career in marketing or consumer advertising. After graduating with a minor in consumer studies and a stint in Ryerson Universities' then brand new radio and television graduate program, Corman landed her first job in media as a production coordinator with TVOntario. Over time, she worked with other networks and programs, eventually finding herself as executive producer on some of CBC's most popular lifestyle programs such as Steven & Chris and The Goods.
"I have managed to be at the CBC for a long time. I love the CBC, I love the brand, I love what it stands for. I buy into where it is going, its direction," gushes Corman.
For now, the CBC's direction, like much of legacy media, is towards more online content. CBCLife is not just a webpage but a fully interactive storyboard, serving up a smorgasbord of digital and streaming content on truly Canadian topics from the tantalizing 'Newfoundland's Instagram Worthy Destinations' to risqué exposes on how Canadians choose to groom their nether-regions. This all keeps Corman very busy. Yet despite the whirlwind around her, she is able to stay grounded thanks to something else gleaned from her years at U of G.
"Beekeeping! That was the best part of Guelph for me, that I got to take beekeeping as my science credit," says Corman excitedly. "I continue to keep bees. It was amazing. It changed my life."
Beekeeping or apiculture – still a credited course available to students pursuing their BA – lets students get hands-on with a beehive, learning about honey bee biology, behavior and honey production. Being able to take a course like this is one of the benefits of the open nature of U of G's Bachelor of Arts course selection.
Corman says honey bees have become a big part of her life, even going so far as to join a hive-share program in downtown Toronto.
"If I hadn't taken beekeeping at Guelph…well, I can't even describe how much I love bees," says Corman.
Her fond memories of U of G aren't just limited to bees. The valuable life lessons learned during her time at the University is one of the reasons Corman decided to come back and speak to the psychology class.
"I have been in the place of most of these students. You are in your third or fourth year and you are wondering, 'Was it worth all the money and time that I just spent on this? Is what I'm learning going to be applicable? Will anybody take it seriously?' And, I think the answer is yes. You may have to go take another course eventually to seal the deal. That's what I had to do. But the foundation is worth the investment. There are things you learn here that you can't directly align to other things, even so-called soft skills, but what you get is a solid foundation that will help you no matter what you are going to do next."
These soft skills – knowing how to interact with others, carry on a conversation, actively listen and respond – are something that Corman feels students today really need to make an effort to learn.
"Be engaged. Talk to people. Get off your phone and look people in the eye. Push yourself. Say, 'Today I am going to look some people in the eye and start a conversation.'"
Great conversations and discussions is another thing that Corman fondly remembers about her time at U of G.
"As you become an adult, there aren't really a lot of outlets where you can have those great conversations and discussions like you can in university. I do miss that. Those were probably the highlights of my time here, those great conversations…and the bees.
Did I mention the bees?"