Location:
Alexander Hall  |  Room 200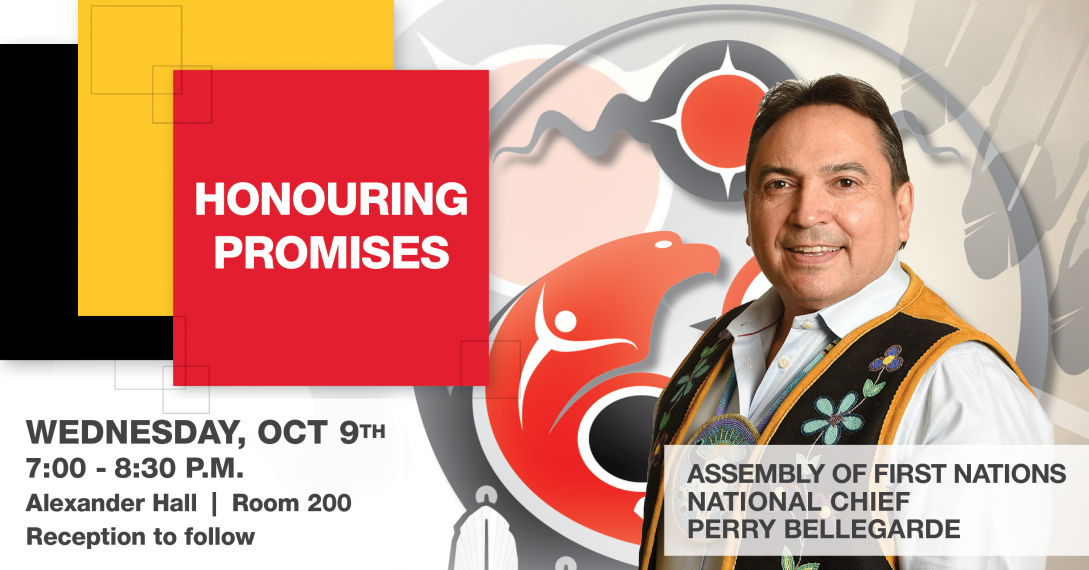 Body:
HONOURING PROMISES: ADVANCING THE UN DECLARATION ON THE RIGHTS OF INDIGENOUS PEOPLES
Perry Bellegarde, re-elected National Chief of the Assembly of First Nations in 2018, holds a wealth of leadership experience. He's spent the past thirty years putting into practice his strong beliefs on the laws and traditions instilled in him by the many Chiefs and Elders he has known over the years. Passionate and unrelenting in creating real, measurable progress on the priorities that matter most to First Nations, National Chief Bellegarde is a strong advocate for honouring and implementing Inherent and Treaty rights, title and jurisdiction.
Originally from Little Black Bear First Nation in Treaty 4 Territory, he has served in many roles and has experience and expertise in leadership at all levels of First Nations governance. In 2014, the Chiefs-in-Assembly first elected Perry as National Chief of the Assembly of First Nations. He was re-elected to the position in July 2018. As Assembly of First Nations National Chief, Perry Bellegarde remains committed to building on the momentum created in his first term. His national platform and agenda, Closing the Gap, remains a top priority and has directly influenced the federal government's planning and priorities.
National Chief Bellegarde remains grateful for the strength and vision he has gained from the Elders. He vows to always place great importance on respecting their teachings. Their guidance has made him a man of foresight and a leader for generations.
---
JOIN US and hear from the National Chief Perry Bellegarde in how he uses the context of the federal election to explore why it is critical for Canada to implement Indigenous rights, starting with the need to implement the 2007 United Nations Declaration on the Rights of Indigenous Peoples.