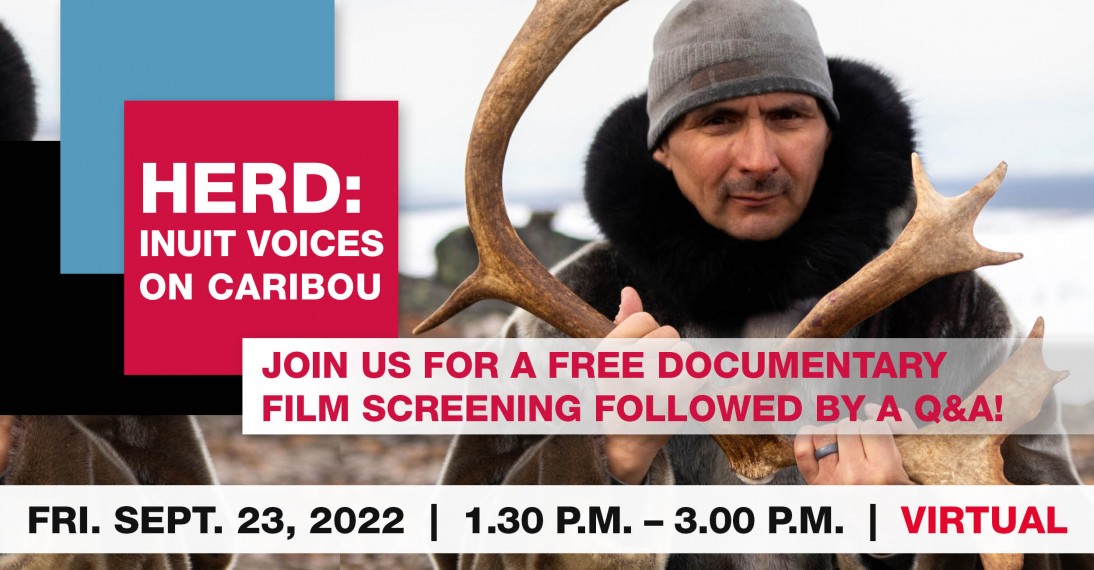 Body:
About the event
GIDS will be hosting a 15-minute version and a behind-the-scenes of the film Herd: Inuit Voices on Caribou. A lively conversation and Q&A with IDS alumnus, Dr. David Borish and colleagues will follow.  
This new film - Herd: Inuit Voices on Caribou - documents the implications of a 99% decline in caribou populations for Inuit communities in Labrador. 
Registration is required [1] and the Zoom link will be provided closer to the event.
Amplifying Inuit Voices 
HERD: Inuit Voices on Caribou, tells the story of Inuit connections with caribou in the Nunatsiavut and NunatuKavut regions of Labrador, Canada. Through Inuit leadership, we are using visual media as a way to document, analyze, and share Inuit voices with caribou so that this information can be preserved for future generations. So far, 85 Inuit from 11 communities have taken part in this work. This project stands as an emotional, audio-visual, qualitative repository that highlights Inuit feelings and experiences of loss and distress associated with caribou declines; shares outlooks and actions of strength, hope, and resilience; and illustrates the need for Inuit leadership and guidance in caribou conservation and management.  Source: https://www.inuitvoicesherd.com/about
Meet Director and Producer David Borish and his team
David Borish is a social and health researcher and visual artist pushing the boundaries of using audio-visual methodologies to explore and understand relationships between humans and the environment. His work sits at the interface of documentary film, public health, cultural and social wellbeing, wildlife conservation, and audio-visual research methods.
Learn more about the project by visiting www.inuitvoicesherd.com/home