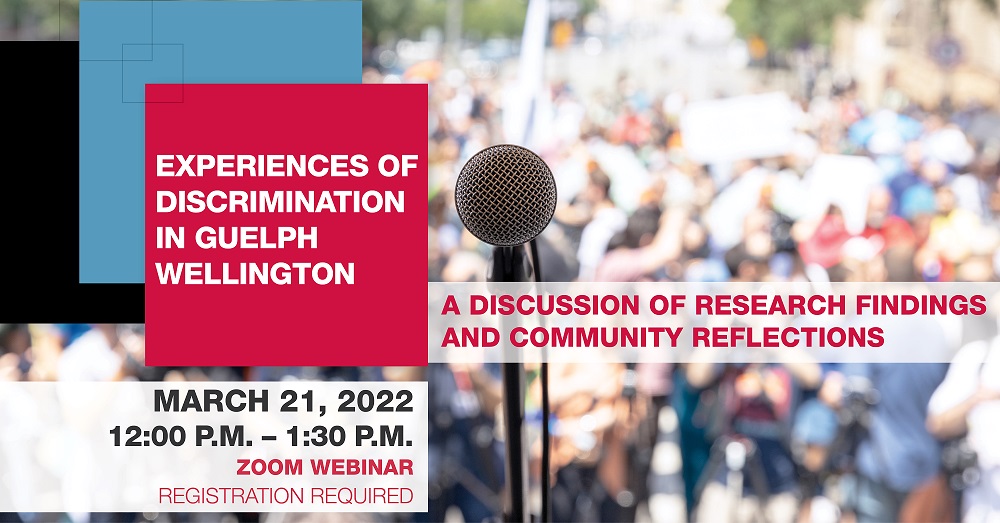 Body:
The Community Engaged Scholarship Institute (CESI) and the College of Social and Applied Human Sciences (CSAHS) at the University of Guelph in partnership with the Guelph Wellington Local Immigration Partnership (GWLIP), invite you to join us on International Day for the Elimination of Racial Discrimination as we share key results from the recent GWLIP study, Discrimination Experienced by Immigrants, Visible Minorities, and Indigenous Peoples in Guelph and Wellington County.
Developed in partnership with the Network for Economic and Social Trends (NEST), Western University and the City of Guelph, this research explores the extent and context of discrimination experienced by the residents of Guelph and Wellington County; it is our hope that this study will support the development of evidence-based anti-discrimination initiatives at the local level.
At this event, the GWLIP will present the findings and methodology of the survey. A panel of local community members will share their valuable insights around discrimination and its impact in Guelph and Wellington County today. Attendees will be provided with opportunities to ask questions of both the researchers and panelists. These panelists include:
Hoda Ghonim, Newcomer Health Programs | SHORE Centre
Ingrid Brand, Principal | Brand Intercultural
Kayla, CEO | The Kween Company
Sara Sayyed, Senior Advisor of Equity, Anti-Racism and Indigenous Initiatives | City of Guelph
Hosted by Samantha Blostein, Global Engagement Specialist, Community Engaged Scholarship Institute / Guelph Institute of Development Studies / College of Social and Applied Human Sciences
We hope to see you on March 21st from 12:00pm - 1:30pm! The release will be followed by a second webinar on April 21st that will be an opportunity to discuss what actions the community can take to address the issues identified in our report.