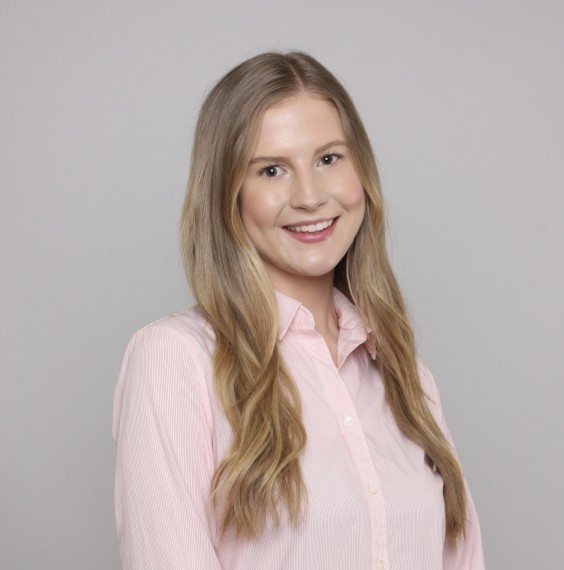 Olivia Dobson is a master's student in the Department of Psychology's Clinical Child and Adolescent Psychology (CCAP)program. Olivia's research, under her supervisor Dr. Meghan McMurtry examines needle pain management strategies that assist those with autism.
Olivia recently received the 2021 Autism Scholars Award – an $18,000 prize – for her "leading edge scholarship into autism."
Olivia spoke with us about her research, her time as a student at the University of Guelph and her desire to 'Improve Life' for a group of individuals who face particular accessibility challenges.
---
How would you explain your research to someone who wasn't in your program?
My research aims to facilitate more comfortable needle procedures, such as vaccinations and blood-draws, for children with Autism and their parents.

Needle procedures are a critical part of healthcare and, unfortunately, they are often painful and fear-inducing for children.

Children with Autism tend to have greater difficulty undergoing needle procedures due to their special needs including difficulties with communication, unfamiliar experiences and sensory perception. Children with Autism also have a higher rate of medical-related phobias than their neurotypical peers and yet, their needle-related fear and pain are often poorly managed.

There are clinical guidelines for helping children undergo less painful and stressful needles, but it remains unclear how to best support children with Autism before, during, and after a needle procedure.

My supervisor, Dr. McMurtry, and I are excited to be the first to investigate how existing needle pain management tools and fear-reducing interventions can be tailored to fit the needs of children with Autism and their families. For example, how best to educate and prepare children with Autism for a needle and other helpful accommodations during a needle procedure.

This project will gather feedback directly from the parents of children with Autism.
Why is your research important to you?
I have worked with children with Autism and their families for more than seven years, and I am passionate about advocating for accessible services for this population.

I was shocked to discover the lack of resources to help children with Autism cope with needles, especially given that this population is at greater risk for experiencing difficulties with needles.

Accessible services require adjustments to the way services are delivered. In 2018, I had this concept in mind when I founded the first dance program in the Annapolis Valley region of Nova Scotia. It was designed to meet the needs of children and teens with developmental disabilities. This dance program continues to thrive, supporting approximately 30 dancers.

My research is important to me because, like this dance program, it will ultimately fill a gap in services for children with Autism. My master's research will identify the modifications and additions that families perceive to be needed for existing clinical practices to be appropriate for children with Autism.

In my PhD, I plan to use this information to develop and implement an informative resource about needle pain and fear that intends to meet the needs of the Autism population.
What approach or framework do you take in your research and clinical work?
Since beginning as a student at the University of Guelph in the Pediatric Pain Health and Communication (PPHC) Lab, the faculty and peers around me have helped to shape the direction that I would like to guide my research and clinical work towards. I have come to appreciate the importance of patient-centered care and patient-oriented research.

I didn't enter the CCAP program with a framework for how I wanted to conduct research or lead my future clinical practice, but I have since discovered that I align with the patient-oriented framework, which emphasizes considering peoples' individual differences, including different values, experiences, and special needs.

I aim to take a patient-oriented research approach through hearing directly from parents with a child with Autism about how needle procedures can be made more comfortable for their family.

My moto is that there is, "no one-size-fit-all," when our research and clinical work is with individuals who all experience life through a different lens. 
What do you wish your colleagues/friends/family knew about your work?
I think that the long-term and severe impacts of unmanaged needle fear and pain can be underestimated – as can the ways that being on the autism spectrum may make medical procedures complicated and or traumatic.

I want people to know that my master's research will be one of the steppingstones to making sure that there are appropriate and accessible strategies for mediating needle fear and pain in children with Autism.

What have you learned or discovered since beginning your studies at Guelph that's surprised you?

Since beginning my studies at the University of Guelph, I was pleasantly surprised by the value of, and support for, student research.

I always knew that research would be a component of my graduate school training, but I underestimated the significant impact that student research has on the world. Students are conducting some of the most important research out there!

There is tremendous support for students, both within the University and externally from sponsors like the Autism Scholar's Program, to self-direct their research and pursue topics that they are passionate about.
What are you most proud of?
I am starting to see the real-world outcomes of my hard work, including how my work can improve the lives of families, which I am so proud of.

Dr. McMurtry and I quickly discovered that needle pain and fear in children with autism is an issue that we both find important to investigate. I am proud that we are pursuing this area of research that little empirical work has been dedicated to, and I am confident that there will be tangible positive outcomes for children with Autism and their families.
How do you feel about winning the Autism Scholar's Award?
The Autism Scholars Awards Program helps support pioneering autism research that positively impacts children with autism and their families. Receiving the Autism Scholar's Award means a lot to me because helping children with autism and their families is a large part of why I pursued clinical psychology training in the first place.

I feel fortunate to be conducting research with Dr. McMurtry where I can see the direct impact of the work on a population that I care about. Receiving the Autism Scholar's Award validates the importance of my research and motivates me to continue this line of work at the PhD level.
What do you plan to do with your degree/plans for the future?
After graduating from the CCAP program, I hope to focus my clinical practice on working with children with developmental disabilities and their parents. Every family is unique, and I look forward to helping families discover and utilize their strengths to cope with the challenges that they are faced with.
Is there a fun or interesting fact about yourself that you'd like to share?
I am full of questions. My hand was always raised in school growing up and I have no shortage of curiosity. Although this trait wasn't always celebrated throughout my life, I think that my 'questioning' nature is and will be a part of my success as a researcher because it is our job to discover and ask the important questions.