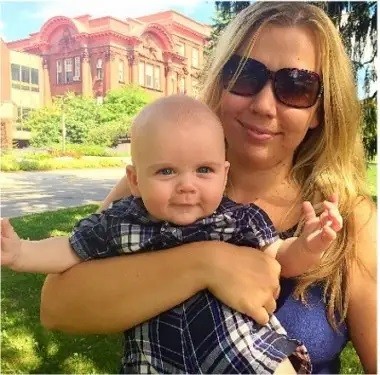 My PhD journey began in September 2016. My start was probably a bit different from the average student's. I pulled up to MacDonald Institute reminiscing about my graduate school days that I had finished a few years before. I thought about the classes I took and the friends I made during my MSc program in Family Relations and Human Development. This time I was not arriving to Student Orientation with one of my best friends (who happened to be in the same program as me during my master's), but I was arriving with my parents and my four-month-old son. That's right—I am fairly sure I was the only one on campus that day beginning this new school year with my mom, dad, and son in tow.
I wanted to be there to meet my new classmates.
I wanted to begin immersing myself back into academia, and chat with my old professors.
I wanted to start off on the right foot!
But I needed to feed my son who was exclusively breastfed at the time.
I needed help.
My husband tried his hardest to take off work that day to come with me, but unfortunately could not. So, there we were. Me, my son, my mom, and my dad, standing under a tree outside of MINS, excited and nervous to see what this next chapter in my life would look like.
The first semester of my program was a challenge, as I drove my son and I from Burlington three times a week for class. I had hired a sitter on campus to watch him while I was in class, and I vividly remember having to use our two 15-minute breaks (during our three-hour classes) to run down to my office to feed him. My classmates and professors were always so understanding when I ran into class a minute or two late feeling all dishevelled.
I started getting into a groove during my second year but was then surprised to find out that my family would soon be growing again. We welcomed my daughter into the world in February of 2018. After a 10-month maternity leave, I came back to the program to write my specialization paper and became a PhD Candidate in April of 2019. I was starting to feel more confident; the end of my program was looking closer! Or maybe not… a job promotion, to become Executive Director of a small research organization in Toronto was offered to me. After many discussions with my number one supports (my husband, my family, my advisor Dr. Preyde, and my close friends) I decided to take the opportunity and see if and how I could manage this new position.
I quickly learned how to triage my life and my competing responsibilities. As cliché as it sounds, it has become quite the balancing act. Sometimes I miss a fun weekend hike with my husband and kids because I need the day for writing. Sometimes I do not get to attend a social gathering with my peers because I am cuddling a child who is sick.  Sometimes I must postpone a work meeting because I have a seminar to attend or delay a meeting with my advisor because it is my turn to supervise virtual JK. I learned the difference between what I want and what I need—and have become good at distinguishing between the two. And yes, sometimes I need that bubble bath while reading my favorite book even though I want to be writing.
By no means am I the most successful student, or the best mom, or the strongest employee. But I have learned some things along the way that have helped me manage and keep me trudging along. If you feel like you are being pulled in many directions, here are some things that I have learned that have really helped me:  
People genuinely want to help you and watch you succeed. Sometimes you just need to tell them how they can help.
You cannot put 100% into each of your identities or responsibilities ALL the time. It is impossible and not expected of you. Lower your expectations of yourself.
It is okay to say "no." Especially when saying "yes" will add an abundance of stress to your life.
A support system is key for success. Having others in your corner will make the journey easier and more enjoyable.
Think outside the box. There is always a way to solve a problem—sometimes it just takes some creativity.
Your journey may not look as planned. Perhaps you will not publish as many papers as you hoped, or attend as many conferences, or get an A+ in every class. That is okay. The real learning takes place as you persevere through the challenges. 
A few I have been asked why I decided to do my PhD with such young children at home. Why I didn't finish school before I started a family? or Why I didn't wait until my children were a bit older to set off on this adventure? In the end, my answer usually revolves around the fact that I didn't want to wait for either of these identities to grow. My PhD studies and motherhood have been so intertwined—I cannot imagine them being separate identities or in different times of my life. My path has been anything but traditional or smooth, but I am so thankful to be where I am.
I look back to that hopeful first day at my PhD Student Orientation, my son and parents waving to me as I walked into MINS, my husband waiting for me at home with a congratulatory cake, the big smiles I received from my advisor and past professors when I walked into the orientation, and the numerous texts I received from family and friends with words of encouragement. I feel so blessed to be surrounded by such a supportive family, department, workplace, and community. There have been times that I have questioned my abilities and if I could continue on this path. But then I stop… take a breath… and look around at all those who have supported me in each of my worlds (home, school, and work), and I remind myself that I am doing this not only for myself, but for each person who has held me up when I felt I could not stay balanced anymore.
~ Written by Sarah Head (mom, wife, daughter, sister, friend, PhD candidate (FRAN), Executive Director)